Ořechy se používají jak ve studené, tak v teplé kuchyni skoro ve všech zemích světa. Jsou ceněné nejen pro svou úžasnou chuť, ale také kvůli oleji, který některé druhy hojně obsahují. Existuje jich spousta odrůd. Malé, větší. Tvrdší, měkčí. Více mastné či méně mastné. Sladší i hořčí. Vyberte si.
.
Mandle
- používají se do slaných i sladkých pokrmů
- zejména užívané na Středním Východě
- mohou se přidávat celé, plátkované, mleté nebo na kousky - s hnědou slupkou nebo bez ní (spařením se dobře odstraní)
- jsou vhodné klidně i k masu, do dipů a omáček
- jako sladké se dají použít skoro všude, extra vhodná je kombinace s mákem
Almond
- store in a cool, dark, dry place - refrigerate or freeze
- eat as a snack
- used in savoury dishes, particularly Middle Eastern
- in baking and confectionery
- almonds grow on trees, native to southern Europe
- added to pastry, such as praline and marzipan, or to make almond butter

.
Para ořech
- skladuje se stejně jako mandle na suchých a chladných místech, kde je také tma
- pochází s Jižní Ameriky, kde roste na stromech
- je to vlastně semeno, obklopené tvrdou skořápkou
- roste ve shluku, který je obklopen skořápkou, která je podobná kokosové
- chutná krémově a je mastnější
- použít se dá jak do slaných, tak sladkých jídel
Brazil nut
- store in a cool, dark, dry place
- from a South American forest tree
- the nut is a seed surrounded by a hard shell
- grows in clusters inside a large coconut-like shell
- rich, creamy texture
.
Kešu ořech
- skladuje se stejně jako ostatní
- pochází z Brazílie, ale dnes roste především v Indii
- používá se hojně na Východě a v Asijské kuchyni
- má mírně nasládlou příchuť a je poměrně měkký
Cashew nut
- store in a cool, dark, dry place - refrigate or freeze
- native to Brazil
- this nut now grows primarily in India
- it is widely used in Eastern and Asiatic cuisines
- a mildly sweet flavour and soft texture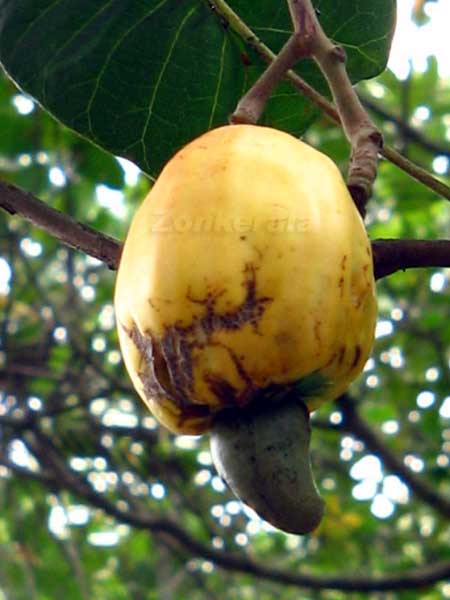 .
Jedlý kaštan
- je málo tučný a je vhodný do dietního jídelníčku
- čerstvé se uchovávají v lednici
- používá se do polévek, nádivek, k zelenině
- sladké použití do pyré, zmrzlin, suflé nebo jako pečený samostatný pokrm
Chestnut
- a starchy nut with low-fat content and good dietary fibre
- when fresh, store in the fridge
- use in soups, stuffing, with vegetables
- purée for desserts, such as soufflé or ice cream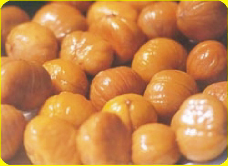 .
Kokosový ořech
- má hnědou tenkou slupku, která se dá jíst; tvrdší, která se musí odstranit a také vnější, která se odstraňuje ještě před transportem
- uvnitř má bílé jádro, které se hodí do sladkých i slaných pokrmů
- obsahuje také kokosové mléko, které se nachází uvnitř každého ořechu
- roste na palmách, jí se sušený (plátky, mletý, kostky) nebo čerstvý
- kokosové mléko se používá především v Asijské kuchyni
Coconut
- store in fridge
- the fruit of a tropical palm
- the flesh may be eaten fresh or dried
- the milk makes a refreshing drind and is used in many Asiatic cuisines
- coconut oil is hing in cholesterol
- flaked coconut use in baking and desserts and in many Indian dishes
.
Lískový ořech
- jeden z nejznámějších ořechů vůbec
- roste i u nás, dále pak v celé Evropě, západní Asii a v Severní Americe
- má tvrdou slupku, pod kterou se skrývá jádro, které je měkké a mírně nasládlé
- vhodný spíše do sladkých pokrmů - dorty, krémy, rolády, sušenky, zmrzliny...
- hodní se k jablkům, vyrábí se z nich ořechové máslo a olej
Hazelnut
- also known as a filbert
- grows worldwide, it is very popular in baking and in savoury dishes
- also used to make hazelnut oil and butter
- store in fridge or freezer
- use whole in rich fruit cakes and chopped in sweet and savoury dishes, desserts, soufflé and ice cream, in pastry and to make praline
.
Makadamové ořechy
- používají se do salátů, koláčů, sušenek, dortů, dezertů, zmrzlin nebo plněných taštiček
- pocházejí z Austrálie, ale pěstují se např. i na Havaji
- makadamový olej je poměrně vzácný, ale účinný především v kosmetickém odvětví (hydratuje a vyživuje pokožku)
Macadamia nut
- store in fridge or freezer
- eat as a snack or chop
- use in salads, cakes, biscuits and desserts, such as ice cream and tarts
- ground macadamia nut use in pastry and to make praline
.
Buráky
- jsou také hodně známé
- rostou na rostlině, která se jmenuje Podzemnice olejná
- mají poměrně měkkou a snadno rozbitelnou slupku, pod níž se skrývá burák v hnědém obalu, který se sice jíst dá, ale není příliš chutný (jako papír)
- použití jak na sladko, tak na slano - též pražené buráky se solí nebo v karamelu
- přidává se do salátů, omáček,
Peanut
- store in a cool, dark, dry place
- the peanut, also known as groundnut, grows in pairs in brittle shells, which makes it and ideal snack
- adaptable to savoury and sweet dishes
- skin usually slips off easily
- use tu make peanut butter
- roasted peanut add to salads, sauces and poultry, meat, fish, pasta and rice - also cakes and biscuits
.
Pekanový ořech
- je jádro stromu zvaného Bílý ořech
- ačkoli vypadá podobně jako vlašský ořech, je pekan jemnější
- použití hlavně do sladkých jídel, koláčů, dortů, dipů, zmrzlin, sušenek...
- z mletého se dělají pralinky
Pecan nut
- the kernel of the fruit of the hickory tree
- the pecan resembles the walnut and can be used in the same way
- both have their own flavour, but pecan is the more delicate
- use in savoury or sweet dishes
- eat as a snack, use whole in pecan pies and fruit cakes or chopped in cakes and biscuits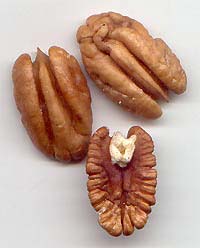 .
Pistáciový ořech
- má zelenou barvu, takže se liší od ostatních a je dobře rozpoznatelný
- použití jak na slané tak sladké
- pochází ze Sýrie
- má skořápku, která se dá otevřít poměrně dobře bez jakéhokoli nástroje, a to hlavně díky přírodní trhlině, která se nachází na každém oříšku
Pistachio nut
- native to Syria, now cultivated worldwide
- the pistachio is a small, green kernel in a cream-coloured shell with a natural opening on one side
- store in freezer
- roasted pistachio nut use in desserts, such as cakes, ice cream and soufflé, add to pastry and used to make praline
.
Vlašský ořech
- další ze známějších druhů ořechů
- použití především do sladkých jídel a dezertů
- koláče, pudinky, rolády, dorty, bábovky, zmrzlina, sušenky...
- jako slaný ho můžeme použít v kombinaci se sýrem a hroznovým vínem jako chuťovku nebo do těstovin
- roste i u nás
Walnut
- store in a cool, dark, dry place
- american walnuts have a dark shell and skin surrouding white flesh with a strong flavour, whereas the European variety is milder
- used to make oil
- walnuts are good as a snack, or with cheese and port after dinner
- halved or chopped, they can be added to salads, rich fruti cakes, pasta sauces, biscuits and stuffings
- ground walnut use in biscuits, tarts, to make praline or add to pastry